My dear friends, for the longest time, I have said that the age of heroes is long past. Alas, the 21st century is no place for vigilant groups of the righteous. King Arthur and his knights of the round table are no longer with us. Jesus and the 12 disciples are more than 2000 years gone. It appears that the virtuous no longer come together to fight the good fight. The forces of evil that corrupt the minds of men have been given free reign upon our world. And so it is with tears of unrestrained joy that I write these words, dear friends. I was wrong. The heroes are not gone. In one place, in my very own nation, they have returned.
I need not tell the virtuous among you that I can be referring to none other than the Kenya Film Classification Board or KFCB as they have styled themselves. These individuals have taken upon themselves a responsibility that many would shy away from. They have appointed themselves the thankless task of not only safeguarding the national, cultural and moral values of Kenya, but also determining what they are.
I remember the first time I saw the now infamous coca-cola advertisement. A man and a woman, kissing in broad daylight on my television before 10pm. I nearly had a heart attack. The onslaught of urges to sin and fall into temptation almost consumed me. For hours I was in a panic imagining how much worse it would be have been, had I been a child possessed with none of the mental armour of an adult. I remember how I wailed at the fall of this great nation's morals. Which would we be if this was allowed to continue? Sodom, or Gomorrah?
Imagine my relief when I heard that someone was looking out for us defenseless Kenyans. Someone wanted to protect our feeble minds from this filth. They would watch these things and weather the storm of temptation so that we would not have to. A last line of defense. I salute and acknowledge your sacrifice great ladies and gentlemen of KFCB. Well Done. You could have been satisfied with rating films and handing out licenses, but no, that is not the path of the hero. You aspire to be more as all those meant for greatness should.
The public however, have not been kind to you despite all you have done for them. They have questioned you at every corner. Criticized all of your great work. But did you let the pressure break you? Did you relent? No you did not. You know better. You know that Kenyan citizens cannot be allowed to determine their own national values. Someone must tell them what they are. Someone wiser than they.
Their utter lack of wisdom has been shown in how some have said the horror and offensiveness we witnessed in that advertisement was just a kiss. What is harmful in a kiss on television, they have asked. The answer, dear readers, is everything. Everything about it is harmful. These things are all connected you see. A kiss on television can lead to hug in real life (yes, a hug! One with real contact between the unmarried sexes. Perish the thought). And a hug can lead to a real kiss and a real kiss can lead to things virtuous people do not speak of. If you do not believe me, look to our history, my dear Africans. Do you know how Shaka Zulu was born?
Wikipedia tells us that:
Shaka was conceived during an act of what began as ukuhlobonga, a form of sexual foreplay without penetration allowed to unmarried couples, also known as "the fun of the roads" (ama hlay endlela), during which the lovers were "carried away"
You see how so called "harmless" behaviour can escalate? And, worse, what did this Shaka do after being born? He went and fought the coming of Christianity. CHRISTIANITY! And so you see my fellow Kenyans how these TV kisses will lead to our young producing Shaka Zulus who will in turn erode our long held and cherished christian values. That is the danger, KFCB in their infinite wisdom, have seen and diligently strive to avoid.
But now that I have spoken of your good work KFCB, I need to make some suggestions. Do not take this the wrong way, I do not mean to criticize you brave souls, but there is still more to be done. There is still more evil lurking in our televisions waiting to pounce upon and corrupt our young.
Let me direct you to an advertisement that has evaded your sharp eyes (through no fault of your own I'm sure. The wicked are indeed cunning). It is the JTL Faiba ad. The one that contains this man.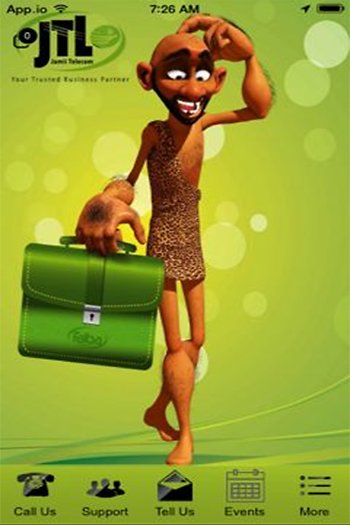 Look at him. A man strutting around in a dress and carrying a handbag. And it's not just any dress, it is an indecent one. Baring the chest and leaving the thighs almost entirely exposed. In the Same Love video incident, you told us what we should think about the unspeakable breach of our values being carried out here. Yet, this animated miscreant has been allowed to run amok on our televisions (DURING THE PRECIOUS WATERSHED HOURS) with impunity. What is this fellow encouraging our youth to look for on this internet he is peddling? Just imagine it (but do not imagine too much lest you fall into temptation and require the services of KFCB to censor your thoughts).
The next figure is even more disturbing than the last. This man has been hosted on television several times even appearing on the news.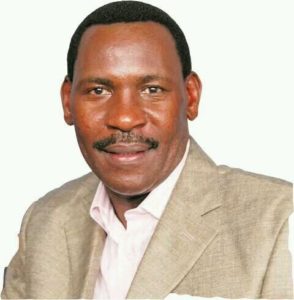 I have asked about him and some people have made the truly shocking accusation that he is not only part of KFCB but is the CEO. I refused to believe these rumours. You would surely not fraternize with such a man as this. Surely not the great KFCB. Imagine my horror at finding out that this accusation was nothing but pure truth. I will not lie to you KFCB, it broke my heart. I felt betrayed. How could you?
Now, many of you may be too virtuous to know his crime, for this I commend you. But those of us with darker pasts know what this man is doing. How he must be taking advantage of the ignorance of the devout and moral people at KFCB. Direct your attention to this man's face dear readers. Do you see it? Just above his his lips. You see it don't you? That thing is something the seedier parts of world call, a 70s pornstache.
Yes, a pornstache. I know, it is shocking to speak of such things, but sometimes we need to learn of what the forces of evil are up to. That mustache this man sports was for a long time a loud and proud indicator for those men who took part in the pornographic industry. It could perhaps even be called, a badge of honour.
See google:

Now we have spoken of how small things can lead up to Shaka Zulu fighting Christianity. Imagine oh dear readers, a thing as great as the leader of Kenya's greatest heroes, the KFCB, flashing such a thing on our televisions on all hours of the day. Imagine it's power. The message it sends. I fear the KFCB have been infiltrated and a subliminal message is being passed on to our youths. A message that may serve to undermine all the good work KFCB has strived for.
So, KFCB, I come before you with my humble appeal. If you care, if you stand for what you claim you do. Please, I beg you, get this man off of our televisions and, if possible, away from a place anyone can see or hear from him and thus be taken down the path of darkness. In the name of all that is holy, do not allow the fibres of this wicked man's pornstache to corrupt and entangle the moral fibre of the Kenyan people. Do your duty KFCB. Let no one ever hear from this man ever again.